4th Grade Field Trip to the
Peggy Notebaert Nature Museum
<![if !vml]>
<![endif]>
<![if !vml]>
<![endif]>
   Our class took a field trip to the Peggy Notebaert Nature Museum on April 4th, 2008.  We had a wonderful time at the museum and learned a lot of new things.  There were many interesting things to see at the museum.  Here are some of our favorite parts of the field trip.
Nature Journaling Workshop
The first thing we did when we arrived at the museum was participate in a nature journaling workshop.  Our class learned about what information goes inside a nature journal and why people keep journals.  We split up into groups and each group studied one of the exhibits in the Wilderness Walk exhibit.  We searched for animals, heard sounds of nature, and identified plants.  The exhibits looked so real!
<![if !vml]>
<![endif]>  <![if !vml]>
<![endif]>
Judy Istock Butterfly Haven
Imagine a 2,700 square foot greenhouse full of over a thousand butterflies of at least 75 different species!  That is just what we experienced in the Judy Istock Butterfly Haven.  Right when we walked in, a butterfly landed on Mrs. Kanas's hand.  The butterflies were beautiful and fun to watch.  Some were tiny and others were as big as a hand.
  <![if !vml]>
<![endif]> <![if !vml]>
<![endif]> <![if !vml]>
<![endif]>
<![if !vml]>
<![endif]>
These are live chrysalides – nearly 1,000 hatch each week for the exhibit!
The Extreme Greenhouse
This full-size bungalow home is right in the middle of the museum.  We learned ways we can recycle and use earth-friendly products.  We also learned how every part of our house is linked to nature.  We also found some surprises in the exhibit…
We all know that pests can get into our homes.  Cockroaches are a common pest that can be hard to get rid of.  We opened a drawer in the "basement" and found quite a few of them…they were part of the exhibit of course.  Even under glass, with no way of getting out, they still gave Mrs. Kanas the creepy crawlies!
<![if !vml]>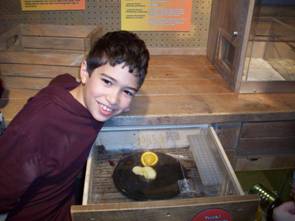 <![endif]>  <![if !vml]>
<![endif]>
Flushing a standard toilet uses about 5 gallons of water.  A water saving toilet only uses 1.5 gallons.  Mrs. Pagano knew all about the water system and how to save water…she works for the water department!
<![if !vml]>
<![endif]>     <![if !vml]>
<![endif]>
                              This device tracks your water usage at home.    It was cool to see how water comes in your house.
River Works
We learned there is no such thing as a lazy river!  The River Works exhibit showed us many things.  We learned how locks, or devices to help boats travel through different elevations of water, function and work.  We have locks in Chicago!  We also learned about what types of animals live in a river ecosystem and the effects of different pollutants in the water.
<![if !vml]>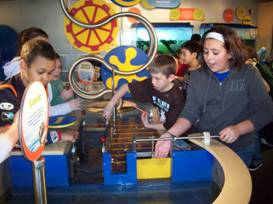 <![endif]> <![if !vml]>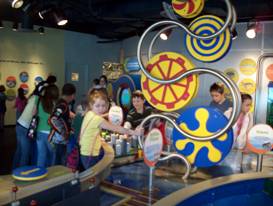 <![endif]> <![if !vml]>
<![endif]>
We had a great time on our field trip!
For more information about the Peggy Notebaert Nature Museum, please visit their website.
Admission is FREE on Thursdays!
<![if !vml]>
<![endif]>