4th Grade Goes Green!
Earth Day 2008
Our class celebrated Earth Day by "going green"!  We did many activities and projects to show our support of the environment.  Here are some ways we have made a difference this Earth Day. <![if !vml]>
<![endif]>
<![if !vml]>
<![endif]>Scholastic Classrooms Care – Rainforest Reading Program
We participated in the "Read 100 Books for the Rainforest" program through Scholastic.  We had a poster on our classroom wall and every time a student read a book, we would add a sticker to the chart.  It didn't take us long to read 100 books and saved a section of the rainforest through the Rainforest Alliance.
<![if !vml]>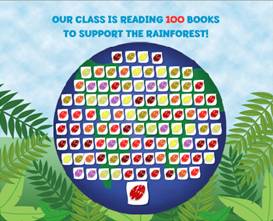 <![endif]>
<![if !vml]>
<![endif]>It's Easy Being Green Display
We wanted to show the rest of the school that it is easy being green!  We made trees out of recycled brown paper that was previously used on a bulletin board and made trees.  Then we cut out leaves from recycled paint sample swatches.  On each leaf, we wrote one easy way to be green.  Some ideas included picking up litter, shutting off lights when you're not using them, not leaving the water on when you brush your teeth, and using a reusable water bottle for gym class. 
<![if !vml]>
<![endif]>
<![if !vml]>
<![endif]>Recycled Crayons
At the end of the school year, many students are left with tiny pieces of crayon that are too small to color with.  We started colleting these tiny crayon pieces last month and by Earth Day, we had a bag full of them.  We decided to recycle them into new crayons.  First, each student took a mini-muffin liner and filled it with crayon pieces.  Then we put the muffin tin in the oven set at 250 degrees for about 15 minutes.   The pieces melted together and became multicolor crayons.  We took them out of the oven and let them cool.  They came right out the muffin liner and we had new crayons to use that would have otherwise been thrown away!
<![if !vml]>
<![endif]>     <![if !vml]>
<![endif]>
<![if !vml]>
<![endif]> <![if !vml]>
<![endif]> <![if !vml]>
<![endif]>
<![if !vml]>
<![endif]>Earth Day Report Card
Each student filled out the Earth Day Report Card.  It made us stop and think about the things we are doing to help the environment and gave us more ideas to try in the future.
<![if !vml]>
<![endif]>
<![if !vml]>
<![endif]>PlanetFesto Virtual Ribbon Project
PlanetFesto.org is a website that is trying to create a virtual ribbon that is long enough to stretch around the world.  Each student created a 6 inch piece of the ribbon.  The reason the project was started was to share the concern for our Earth and inspire people to take action and make a difference.  Each student created a piece of digital artwork or found a picture that represented their feelings about Earth.  On the ribbon, students answered the questions "Why do I love the Earth?" and "What am I going to do to make a difference".  Many classrooms in our school participated in this project.  Click here to see the stretch of ribbon created by Elmwood School students.
<![if !vml]>
<![endif]><![if !vml]>
<![endif]>
<![if !vml]>
<![endif]><![if !vml]>
<![endif]>
<![if !vml]>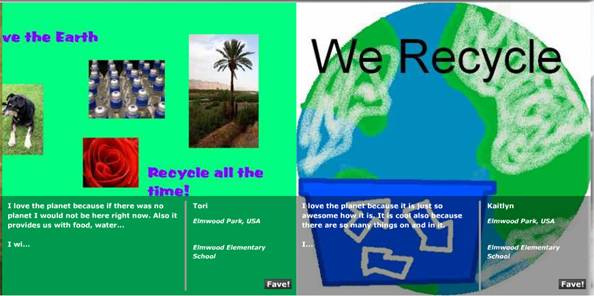 <![endif]>
<![if !vml]>
<![endif]>Earth Day Commercials
In groups, the students created commercials for Earth Day.  Each group was given a topic and the students were only given 30 minutes to brainstorm, develop, and practice their commercial.  They turned out great!  Click on the links below to watch the commercials.
<![if !vml]>
<![endif]>  Back to Mrs. Kanas's Classroom Homepage